Kitchen Cabinet Redooring
What is "redooring"? Our redoor service is the most cost effective way to really change the whole face of your kitchen or bathroom without tearing out and buying new. This service enables us to keep your existing boxes on your walls and simply order new doors in the desired look. This service provides not just a different style of door, but our highly skilled technician can measure for full overlay ( completely covering your box face, most popular in shaker style) so no need to limit yourself to stay with your oak grain if you are looking for maple. (Smooth no grain look, most common) This is also a great alternative to tearing out and buying new to replace damaged or warped doors. Inmost cases we can get a exact match to your existing doors.
Kitchen cabinet redooring can be a great way to update the look of your kitchen without having to break the bank. It can also be done quickly, with minimal disruption to your lifestyle. The process involves replacing the existing doors on your cabinets with new ones, in order to give them a fresh look and feel. This is an ideal solution for homeowners who are looking to update the look of their kitchen with minimal effort. Cabinet redooring can be done in a variety of materials, such as wood, laminate, and metal. It is important to consider not only the material of your cabinet doors but also their size and shape when making this decision. Additionally, cabinet redooring can also involve replacing cabinet frames, hinges, and other cabinet hardware. This can be a good option for homeowners who are looking to update the entire look of their kitchen. Finally, cabinet redooring is an affordable option compared to purchasing new cabinets altogether. With cabinet redooring, you can quickly and easily give your kitchen a facelift without spending a fortune.
Well, do you know how to enhance the quality of your kitchen without breaking the bank? If you're tired of staring at your dated cabinets and longing for a fresh look, we have an exciting solution for you, kitchen cabinet redooring.
This innovative approach allows you to transform the heart of your home by simply replacing the cabinet doors and drawer fronts, giving your kitchen a brand-new appeal.
Cabinet refacing is a cost-effective alternative to a full-scale kitchen renovation. Instead of tearing out your existing cabinets and starting from scratch, you can breathe new life into them by focusing on the most visible elements, the doors and drawer fronts.
Redooring kitchen cabinets can save homeowners a substantial amount of money compared to a full cabinet replacement or renovation. On average, replacement cabinet doors cost around 50-70% less than installing new custom cabinets, making it an attractive option for those on a budget.
By replacing them with stylish and updated options, you can achieve a stunning transformation without the hassle and expense of installing entirely new custom cabinets.
In this article, we will dive into the benefits of cabinet redooring, explore the different cabinet door styles and finishes, and discuss how this approach can breathe new life into your kitchen. So, let's get started.
What Is Redooring Kitchen Cabinets | A Basic Overview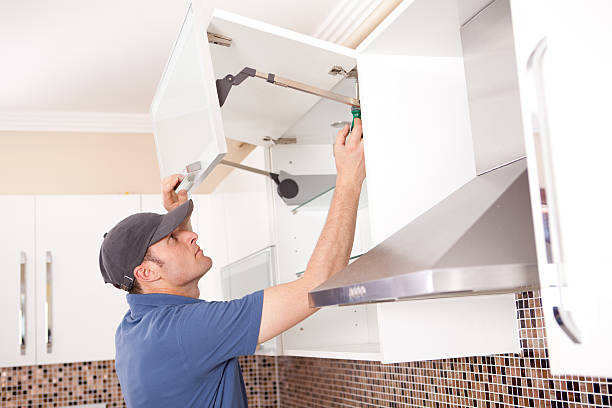 Redooring kitchen cabinets is a process of updating the look of your kitchen by replacing the existing cabinet doors with new ones. It involves replacing only the cabinet doors while keeping the existing cabinet boxes intact.
Here's a basic overview of the process:
The first step in redooring your kitchen cabinets is to choose the style, material, and color of the new doors. Whether you prefer a traditional, modern, or contemporary look, various options are available to suit your taste and complement your kitchen decor.
Once you have your new doors ready, the next step is to remove the old ones. This is usually done by unscrewing the hinges and carefully removing the doors from the existing cabinetry boxes. Handling the removal process carefully is essential to avoid damaging the existing cabinets.
With the old doors out of the way, it's time to install the new ones. This is done by attaching the hinges to the cabinet boxes and mounting the new doors onto the hinges. Make sure to align the doors properly and adjust them for a smooth and even fit.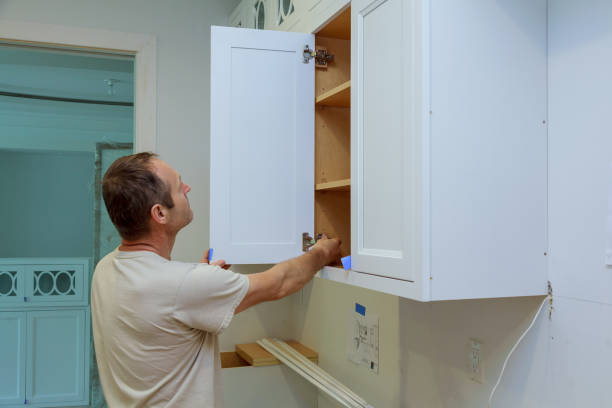 Once the new doors are securely in place, you can add the finishing touches to complete the transformation of your kitchen cabinets. This may include installing new knobs, handles, or hardware to enhance aesthetic appeal. You can choose from a wide range of options that complement the door style and color of your new cabinet doors, adding that final touch of personalization to your revamped kitchen space.
Once the redooring process is complete, you can step back and enjoy the beautiful results. Your kitchen will have a fresh and updated appearance, breathing new life into the space without a complete renovation.
At Resurrect Wood Refinishing, our services are here to transform your kitchen by replacing outdated cabinet doors with stylish and modern options, giving your space a fresh and updated look that you'll love.
Significant Benefits Of Kitchen Cabinet Redooring
Redooring your kitchen cabinets offers a range of user-friendly benefits that can enhance your kitchen space's functionality and aesthetics. Here are some unique advantages to consider, along with how our company can help you achieve these benefits:
Customization and Personalization
Resurrect Wood Refinishing understands that every homeowner has unique preferences and styles. Redooring your kitchen cabinets allows you to customize the look of your kitchen to align with your taste.
With a wide selection of door styles, materials, and finishes, we can help you create a kitchen that reflects your personality and complements your home decor.
Quick and Convenient Transformation
We recognize the importance of minimizing disruption to your daily life during renovation. Redooring offers a fast and convenient solution as it requires less time and labour than a full cabinet replacement.
Our skilled professionals will efficiently remove the old doors and install the new ones, ensuring a smooth and hassle-free experience.
Cost-Effective Upgrade
Our cabinet refacing services are committed to providing cost-effective solutions that deliver outstanding results. Redooring your kitchen cabinets is a budget-friendly option that allows you to achieve a refreshed and updated kitchen without breaking the bank.
By replacing only the doors, we help you save money while still achieving a significant transformation in the overall appearance of your kitchen.
Sustainable and Eco-Friendly Approach
We believe in responsible and sustainable practices. Redooring your kitchen cabinets aligns with our commitment to environmental consciousness.
We reduce waste and minimize the environmental impact by reusing the existing cabinet boxes. You can feel good about choosing our company, knowing that you are making an eco-friendly choice for your home.
Increased Home Value
Redooring your kitchen cabinets is about enhancing your enjoyment of the space and increasing the value of your home. A refreshed and well-designed kitchen is a significant selling point for potential buyers.
Our company has a proven track record of delivering exceptional redooring services that can significantly boost the value of your property, giving you a return on investment that you can appreciate.
Why Redooring Kitchen Cabinets Is Better Than Full Cabinet Replacement?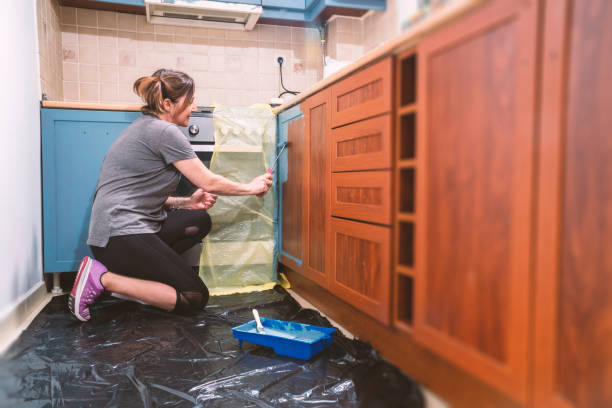 We all know how important the kitchen is as the heart of the home, and redooring kitchen cabinets offer a superior solution compared to full cabinet replacement.
Firstly, redooring allows you to achieve a stunning transformation while maintaining your kitchen's existing layout and functionality. The cabinet boxes remain intact and still in good condition, saving you the time, effort, and cost of tearing out and replacing the entire cabinet structure.
Secondly, redooring is a cost-effective option that provides excellent value for your investment. By focusing on replacing just the doors, you can achieve a remarkable visual impact without needing a complete overhaul.
This budget-friendly approach allows you to allocate resources towards other kitchen renovation aspects, such as new appliances or countertops. So we can say that redooring is far better than full cabinet replacement.
Wrap Up
In conclusion, redooring kitchen cabinets offer a compelling solution combining cost-effectiveness, sustainability, and efficiency.
By choosing this approach, you can achieve a fresh and modern look for your kitchen without needing a full cabinet replacement. Resurrect Wood Refinishing is dedicated to providing exceptional redooring services, offering various options to suit your design preferences.
Our expertise and commitment to customer satisfaction ensure a seamless and hassle-free experience, allowing you to enjoy your newly transformed kitchen in no time. Make the smart choice for your home and the environment by opting for redooring with our company. Contact us for more information.
Whether you're looking to give your kitchen cabinet an update or completely redo the look and feel of your kitchen, cabinet redooring is an effective solution. Professional cabinetmakers can help coordinate the cabinet's finish and hardware with your existing decor and appliances, to ensure that everything ties together nicely. Additionally, cabinet redooring can also give your kitchen cabinet an extra layer of durability, as cabinet doors are often one of the most frequently used parts of a kitchen. In the end, cabinet redooring is an efficient way to update your kitchen without spending a fortune. For more information on cabinet redooring and how you can bring in a new look to your existing cabinets, contact us today!